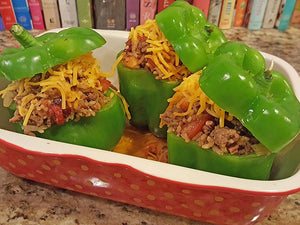 Easy Stuffed Bell Peppers
Ingredients:
1 pound lean ground beef 1 medium onion, chopped 2 cloves garlic, minced 2 fresh tomatoes, chopped or 1 (14 oz) can diced fire roasted tomatoes 1 cup brown rice, cooked 4 bell peppers, any color Salt and pepper 2 tablespoons Herbs de Provence 1 tablespoon red pepper flakes 1/2 cup dried cranberries, optional 1/2 cup pecans, optional 1 cup shredded cheddar, divided Beef or chicken broth Olive Destination Extra Virgin Olive Oil for drizzling
Preparation: Pre-heat oven to 425 degrees. Cook rice according to package directions. Set aside. In a large skillet, brown onion and ground beef together until meat is no longer pink. Add garlic, stirring for about 30 seconds. Add fresh tomatoes and stir to combine. Season well with salt, pepper, herbs de Provence and red pepper flakes. Stir in a 1/2 cup of cheese and stir until melted. Add in pecans and cranberries if using, and stir to combine. (This is a nice variation in the fall). Combine rice with meat mixture.
Slice the tops off of each bell pepper carefully, leaving stem intact. Set lids aside. Remove seeds and insides, so that the pepper is cleaned out. If peppers are wobbly, trim the bottoms slightly by slicing off the rounded edges, creating a flat spot for the pepper to stand upright when placed in a casserole dish.
In a medium casserole dish, place the bell peppers. Fill each pepper with a heaping amount of filling. Top each pepper with remaining cheese, then place each top on each bell pepper. Drizzle each pepper with olive oil. Add about 1/2 inch of beef broth to the bottom of the dish. Bake for 25 minutes, or until tops have browned slightly and peppers are tender.
From Food Network Star finalist Rebekah Faulk Lingenfelser, food enthusiast and writer.
---