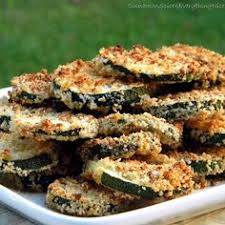 Grilled Parmesan Zucchini
Grilled Parmesan Zucchini
Ingredients:
2 Medium Zucchini sliced lengthways in 4 pieces
2 tsp Olive Destination Garlic Flavored Extra Virgin Olive Oil (or your choice of flavor))
1⁄2 tsp garlic powder
1 tsp Italian seasoning
1 sea salt, to taste
Fresh ground black pepper
2 tbsp. balsamic vinegar
Parmesan cheese to taste
Slice the zucchini in half, lengthwise and then cut the pieces in half again. You will have 8 long slices about 1/2" thick. Place sliced zucchini in plastic storage bag. In a small mixing bowl combine olive oil, balsamic vinegar, Italian seasoning, and fresh ground pepper to taste. Pour the dressing over the zucchini, seal the bag, and move it around to distribute the dressing well.
Place the bag in the refrigerator for 15 to 30 minutes while you grill your entree. If grilling indoors, place stove top grill over medium-high heat. Lightly coat grill with olive oil and grill zucchini for approximately 2 to 3 minutes on each side or till fork tender but not mushy. While still hot, sprinkle Parmesan cheese to taste so it partially melts into the zucchini. If grilling outdoors, prepare your grill and grill the zucchini with cover open as directed for indoor cooking.
---