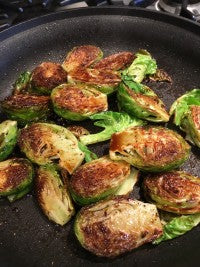 Pan Roasted Brussels Sprouts
If you haven't been a big fan of Brussels Sprouts in the past, try this easy quick way to make a healthy and delicious vegetable side dish. We think you'll be pleasantly surprised.
Ingredients
1 pound fresh Brussels sprouts trimmed and halved
1 tbsp Olive Destination Wild Mushroom and Sage flavored Extra Virgin Olive Oil
1 tsp Olive Destination Dark Chocolate Balsamic Vinegar
Salt and pepper to taste
Instructions
Trim and halve the sprouts. Remove outer leaves
Drizzle olive oil in pan, coating the bottom. Turn on heat to medium and place Brussels sprouts on
the flat side down in the oil.
After sprouts have cooked for about 10 minutes they should look nicely golden brown. Flip at this
point and let cook on the rounded side for at least 5 minutes more until they brown on this side
too.
About a minute before you take the sprouts off the heat, drizzle the balsamic vinegar over them.
The sprouts will soak up the delicious flavor and the heat will caramelize the vinegar slightly. Plate and enjoy.
---