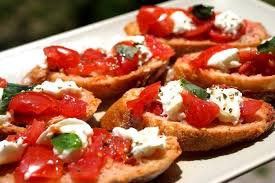 Artichoke Bruschetta
Ingredients:
Olive Destination Artichoke and Olive Tapenade
White Ball Mozzarella
Fresh Baguette
Olive Destination Tuscan Herb Olive Oil
Olive Destination Traditional Balsamic Vinegar
Slice the baguette on the bias to provide a larger platform for the toppings. Spread the Artichoke Tapenade on each slice of baguette. Slice just enough mozzarella to cover most of the baguette and then cover with your favorite type of tomato. Roma tomatoes work very well for size with the bread. Sprinkle with basil and heat in a toaster or conventional oven to moderately warm. Drizzle with Tuscan Oil and Traditional Balsamic to taste.
Olive Destination Class Jan 19, 2016
Prepared and submitted by Chef Paul Kellar
---