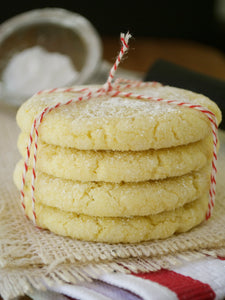 Blood Orange Olive Oil Cookies
Scaled Servings: 18
Ingredients:
2 cup all-purpose flour
1/2 teaspoon baking powder
1/2 teaspoon baking soda
1/4 teaspoon salt
1 cup granulated sugar
1/3 cup Olive Destination Blood Orange
1 1/2 teaspoon Olive Destination Lemongrass Mint White Balsamic
2 eggs
Directions:
Preheat oven to 350 degrees
In a medium bowl, combine flour, baking powder, baking soda and salt. Set aside.
In the bowl of a stand mixer beat sugar and olive oil until smooth. Mix in vinegar. Add eggs, one at a time, mixing well between each addition.
Turn mixer speed to low and slowly add in dry ingredients. Mix until fully combined.
Scoop out dough with a 1.25 inch scoop. Form into balls and roll in sugar. Place on baking sheet lined with parchment paper. Bake for 15-18 minutes until cookies are golden. Cool for 5 minutes then transfer to a wire rack and cool completely.
Chef Ellen Doerr
---