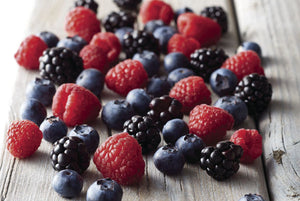 7 super foods to help keep your heart healthy
The statistics are earth-shattering. Heart disease accounts for one of every three deaths in the United States. Each day, 2,200 Americans die of cardiovascular disease — about one every 40 seconds.
Celebrate Heart Month by observing the suggestions below so you're not one of the three. Hopefully you'll make these superfoods part of your everyday eating plan.
Start by filling your shopping cart with fresh fruits and veggies, fish, whole grains and healthy fats like Extra Virgin Olive Oil.
Though many foods can help keep your heart healthy dietitians say these superstars definitely should be on your plate:
» Berries — Raspberries, blueberries, strawberries and blackberries are packed with fiber and vitamin C, which will help keep you healthy this winter. In addition to boosting your immune system, berries contain anti-inflammatory polyphenols that may help repair or delay cell damage that can potentially cause heart disease. Try adding berries as a topping to your Greek yogurt at breakfast, or make them a key ingredient in a leafy green salad.
» Olive oil — Not only is olive oil a monounsaturated fat, it is naturally sodium-free and may help blood vessels remain strong and keep blood pressure at a healthy level. Olive oil is great to cook with and use to flavor your favorite pasta, salad and appetizer dishes. Caveat – Be sure it's real Extra Virgin Olive Oil or you won't get the heart health benefits you expect.
» Spinach — This superfood is packed with fiber, iron, calcium and vitamin K. Researchers believe absorption of some of these nutrients can help reduce inflammation — an important factor in heart disease. Try adding fresh spinach to soups, stews and even smoothies for a boost in nutrients and heart health. The fiber in spinach also can directly reduce the harmful cholesterol in your body.
» Salmon — This moist, flavorful and flaky fish is a great way to add Omega-3 fatty acids into the diet. These healthy fats also may help decrease inflammation and triglyceride levels. Try pairing salmon with a dill yogurt sauce for extra moisture, flavor and nutrients.
» Almonds and walnuts — These nuts are filled with fiber and are rich in Omega-3 fatty acids that increase your good cholesterol. Nuts like walnuts are a heart-healthy powerhouse. Grab a handful of unsalted roasted almonds for a protein- and fiber-filled snack that will keep you full longer.
» Oats — A whole grain, oats offers more vitamins, minerals, fiber and a little more protein than refined grains. The fiber in oats also may lower the risk of heart disease by helping improve cholesterol levels, and can help you feel fuller with fewer calories, which can help with weight control. Kick it up a notch by making your own oatmeal casserole. Be sure to include nuts, fresh fruits such as blueberries or strawberries and a hint of cinnamon for some great winter flavors and aromas.
» 70 percent dark chocolate — Cocoa, one of the main components in dark chocolate, has been associated with antioxidants that may help prevent heart disease, improve blood flow, and lower blood pressure and cholesterol. Be sure to choose dark chocolate with a cocoa percentage of 70 or higher to reap the health benefits associated with dark chocolate. Try adding a small handful of dark chocolate chips to freshly popped popcorn to make a sweet and salty snack packed with antioxidants and fiber that the whole family will enjoy.
Don't forget about other heart-healthy factors, such as keeping active, reducing stress, reducing added sugars and maintaining healthy relationships.
---