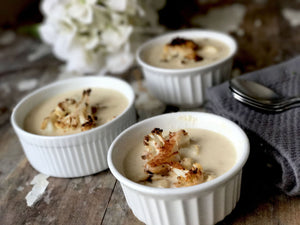 Roasted Garlic and Cauliflower Soup
This may be the perfect cold weather soup and a healthy low card option as well. It may justify making this recipe just for how it makes your house smell. The sweet and savory aroma of garlic roasting with the cauliflower will make your kitchen smell homey and delicious.
32 ounces chicken stock
1 head cauliflower, cut into small pieces
1 8-ounce carton heavy whipping cream
1 bulk bulb of garlic with the top sliced off
4 tablespoons Olive Destination Extra Virgin Olive Oil (Recommend Morruda or Coupage)
1 cup grated Parmesan cheese
1 teaspoon garlic powder
1 teaspoon onion powder
Cayenne pepper
1/2 teaspoon salt
Heat the oven to 400 degrees. Place the cauliflower on a cookie sheet lined with parchment paper. Drizzle with 3 tablespoons olive oil. Sprinkle with garlic powder, onion powder and cayenne. Wrap the garlic bulb in aluminum foil and drizzle with 1 tablespoon olive oil. Roast the cauliflower for 30 minutes; roast the garlic for 45 minutes.
Take half the cauliflower and place in a food processor to puree. Add a little chicken stock to thin. Add the contents of the food processor to a stockpot with the cream and the rest of the chicken stock. Add the remaining cauliflower pieces and squeeze out the roasted garlic. Bring to a boil and add the Parmesan cheese. Stir and add the salt. Serve.
---