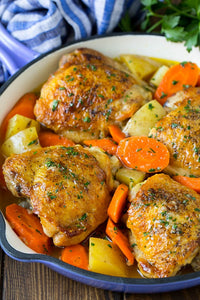 Easy Lemon Garlic Chicken
When we cook at home regularly there us a tendency to make the same recipe, the same way, time after time which can get monotonous. This is a great changeup for your regular chicken recipe. I like thighs but other chicken parts can be substituted.
Ingredients: Eight chicken thighs (prefer bone in and skin on but could be boneless and skinless) Six garlic cloves - minced Salt and pepper Half a cup of Olive Destination Lemon Flavored Extra Virgin Olive Oil Two sprigs of thyme Four carrots Five potatoes (red bliss or whatever is in season) One large yellow onion One cup white dry table wine Method of Preparation In a Ziploc bag add chicken thighs, olive oil, salt and pepper to taste plus the cloves of garlic minced. Seal the bag and let it sit in the fridge Until ready to cook. Marinate for at least 2 hours and up to overnight. Rough chop peeled carrots and potatoes. Slice the onions. Add potatoes, carrots and onions to a Pyrex dish. Add the thyme to the contents of the Ziploc bag and pour all on top of the carrots, potatoes and onions. Add a cup of dry white table wine. Bake at 450 for 45-55 minutes.
---