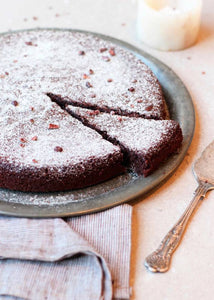 Olive Oil and Coconut Sugar Chocolate Cake
The secret ingredient to an irresistibly velvety choc cake? A healthy helping of Extra Virgin Olive Oil (EVOO) ...
Chocolate Olive Oil Cake
This is heavenly. The olive oil makes the cake so beautifully moist, it doesn't need icing. Completely irresistible served warm with a scoop of coconut yogurt or ice-cream.
Serves 8. Gluten-free, dairy-free & paleo-friendly
Ingredients
1/4 Cup cacao powder
1 tsp vanilla essence
1/2 Cup hot, strong coffee
1/2 Cup ground almonds
1 tsp baking powder
Pinch of sea salt
1/2 Cup Olive Destination EVOO (Either a varietal or add Blood Orange EVOO for extra flavor)
3/4 Cup coconut sugar
Preheat the oven to 350°F. Whisk together the cacao powder, vanilla essence and coffee until smooth and thick. In another bowl, combine the ground almonds, baking powder and salt.
In a large bowl, use an electric mixer to whisk together the olive oil, coconut sugar and eggs on high speed. Keep going for a few minutes until you have an airy, golden mixture. Gradually whisk in the cacao mixture until you have a glossy, smooth consistency. Then add in the ground almonds gradually while mixing.
Grease a 9 in cake tin with a little olive oil and pour in the batter. Bake for 35-40 minutes, until a cake tester comes out clean. Leave it to cool for 15 minutes before slicing and serving.
THE 'EXTRA' FACTOR
I adore olive oil, albeit usually just in a savory sense: it's so smooth and luxurious and there are few things that don't taste better with it drizzled on top. It gives this cake a velvety richness, making it a surprising but perfect pairing with the cacao powder and coffee. Extra-virgin olive oil is unrefined, has a much richer taste and color than standard or even virgin olive oil. It is full of antioxidants and anti-inflammatory properties, much of which are lost in regular olive oils due to the way they are processed, refined and sometimes blended with cheaper oils. As well as its health benefits, I love the intensity of flavor you get with extra-virgin olive oil.
Adapted from The Little Green Spoon
---