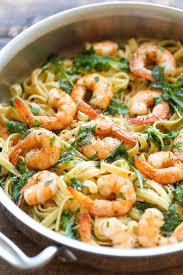 Garlic Butter Shrimp Pasta
Garlic Butter Shrimp Scampi
Scaled Servings: 4
Ingredients:
4 tablespoon Olive Destination Butter flavored EVOO (Extra Virgin Olive Oil)
2 tablespoon Olive Destination Garlic flavored EVOO
1 1/4 pound large shrimp, (600 grams) shelled with tails on or off
Salt and fresh ground black pepper to taste
1/4 cup Olive Destination Champagne Wine Vinegar
2 tablespoon lemon juice
1/4 cup chopped parsley
8 ounce lemon pepper, Olive Destination Pasta
Directions:
Cook pasta per package instructions.
Heat olive oils in a large pan or skillet. Add the shrimp, season with salt and pepper to taste and sauté for 1-2 minutes on one side (until just beginning to turn pink), then flip.
Pour in vinegar, add red pepper flakes (if using). Bring to a simmer for 1-2 minutes or until vinegar reduces by about half and the shrimp is cooked through (don't overcook your shrimp).
Stir in the lemon juice and parsley and take off heat immediately.
Serve over pasta.
Chef Ellen Doerr
---