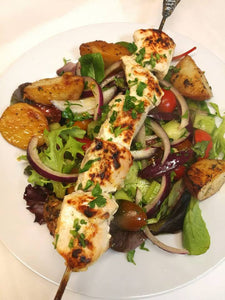 Greek Chicken Souvlaki with Lemon and Garlic Olive Oil Roasted Potatoes
Greek Chicken Souvlaki with Lemon and Garlic Olive Oil Roasted Potatoes
1 1/2 pounds boneless skinless chicken breast cut in 1" pieces
Marinade
1 cup whole milk plain yogurt
1/3 cup Olive Destination Garlic olive oil
Juice from half a lemon
1 tablespoon Olive Destination Lemon White Balsamic
2 teaspoons kosher salt
Fresh ground pepper to taste
Place the marinade ingredients into a bowl and whisk thoroughly. Add the chicken and marinade into a zip lock bag or large bowl with a cover. Refrigerate for a minimum of 4 hours or up to 24 hours.
To cook the chicken, prepare a grill for indirect cooking, or preheat the oven to 400 F. The chicken can be cooked on skewers or in a single layer on a greased broiler pan.
If grilling, place the skewered chicken on to the grill over indirect heat, turn every two minutes to cook all sides of the chicken, approximately 8 minutes in total. Remove and allow to rest briefly while covered.
If broiling in the oven, either skewer the chicken or place in a single layer on a mesh cooking rack or broiler pan. Cook the chicken on the top rack at 450 F. for 6 minutes and then turn the broiler on for an additional 4 minutes of broiling. Turn the chicken to brown each side. Serve immediately
Serves 4-6
Olive Oil Roasted Lemon Garlic Potatoes
2 pounds waxy skin potatoes cut in half (or quarters if large)
Marinade
1/2 cup Olive Destination Lemon olive oil
5 cloves fresh garlic, minced
3 tablespoons Olive Destination Lemon White Balsamic
1/2 cup chicken stock or water
2 teaspoons kosher salt
Fresh ground pepper to taste
Finely chopped fresh parsley (optional)
Preheat the oven to 400 F. Whisk the marinade ingredients except the water in a large bowl. Toss the potatoes with the marinade and arrange in a single layer on a large baking sheet. Add water to the bottom of the pan with the potatoes. Cook for 40 minutes until the water is evaporated and the potatoes are crusty-golden brown. Adjust seasoning as necessary and serve sprinkled with fresh parsley.
Serves 6 as a side dish
---