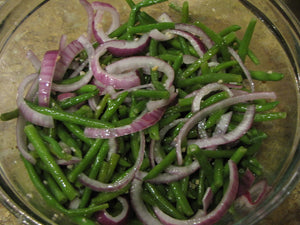 15 Minute Green Beans with Vinegar
Scaled Servings: 8
12 ounce green bean, packages fresh cut
1/2 cup Olive Destination Lambrusco wine vinegar
3/4 cup sweet onions, finely diced
1/4 cup black pepper
Olive Destination Morruda Olive Oil
1 1/2 teaspoon salt
Directions:
Bring a large pot of water to a boil. Reduce heat to a slow boil. Add green beans and boil for 11-13 minutes.
Drain green beans and place in a large bowl. Pour Lambrusco wine vinegar over beans and toss with onions.
Add olive oil, salt and pepper. Toss until combined. Serve warm or cold. Enjoy!
Chef Ellen Doerr
---