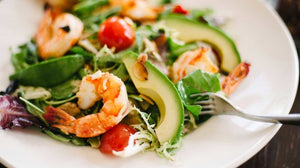 Avocado Shrimp Salad
The ketogenic diet is a very-low-carb, high-fat eating method that's popular for weight loss.
It typically involves limiting carb intake to 20–50 grams per day to stimulate ketosis — a metabolic state in which your body starts using ketones for energy instead of glucose.
However, because it can be restrictive, you may wonder what salads you can eat on a keto diet. Notably, keto salads should be low in carbs but high in healthy fats and protein.
This simple avocado-shrimp salad is keto-friendly and ready in under 30 minutes.
Shrimp is high in protein and nutrients like iodine. Iodine aids brain health and is required for making thyroid hormones, which regulate your metabolism (13, 14).
Ingredients (serves two) (6):
1/2 pound (225 grams) of raw shrimp, peeled and deveined
1 medium avocado, diced
1/2 of a red onion, diced
2 cups (100 grams) of romaine lettuce, chopped
1/4 cup (60 grams) of cherry tomatoes
2 tablespoons (30 grams) of butter, melted
1 tablespoon (15 ml) of extra virgin olive oil
1 tablespoon (15 ml) of lemon or lime juice
Salt and pepper to taste
Instructions:
Heat the pan over medium-high heat, then add the butter and shrimp. Cook thoroughly and set shrimp aside on a plate.
In a large mixing bowl, add the lettuce, avocado, and cherry tomatoes. Drizzle with olive oil and lemon or lime juice, then toss.
Garnish with shrimp and serve. Season with salt and pepper if desired.
---