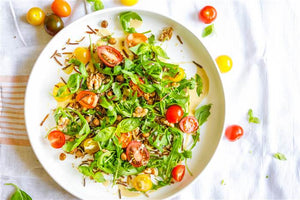 Chicken Breast Tahini Salad
Here's a healthy, lunch-time salad that's great for athletes or anyone who needs plenty of protein. The chickpeas and chicken provide protein, the tahini has lots of healthy minerals, the Extra Virgin Olive Oil(EVOO) is packed with antioxidants, and fiber not only helps you stay fuller longer, but will also help the body absorb more nutrients.
Technique tips: If you prefer a runnier tahini sauce for a nice drizzle effect, add a splash of water when blending together tahini, lemon, and Extra Virgin Olive Oil.
Choose a quality olive oil to sear the chicken. One with a high smoking point and plenty of antioxidants will add flavor and help your chicken stay juicy.
Ingredients:
1 Can chickpeas
5 tablespoons Olive Destination EVOO (e.g. Hojiblanca or Picual)
2 teaspoons cumin, ground
1 tablespoon cilantro, ground
1 pinch salt
1/2 cup wild rice
1/2 lemon, juiced
1/3 cup tahini
1 cup fresh cherry tomato medley
3 cups arugula
1/3 cup walnuts, crushed
CHICKEN
1 chicken breast, skin on
Preparation:
1. Preheat your oven to 200 degrees. Drain liquid from chickpeas and pour them out onto a baking tray. Drizzle with 1 tablespoon olive oil, sprinkle with spices, salt and pepper, and bake for 20 minutes or until crunchy.
2. Combine wild rice and 2 cups of water into a small saucepan; bring to a boil on high heat, covered. Then turn heat to low and allow simmering for 20 to 25 minutes or until rice is fluffy with a bit of texture. Using a blender, handheld mixer, or whisk; combine your tahini, lemon juice, 4 tablespoons olive oil, and a pinch of salt.
3. In a large bowl, mix together your chickpeas, rice, tomatoes, arugula, and walnuts. Drizzle half the tahini sauce onto a serving plate, and top with mixture.
4. Garnish with extra tomatoes and the remaining tahini sauce.
For the chicken:
1. Pat your chicken (skin side) dry and salt it. This helps get the skin get crispy and enhances the natural flavor.
2. On medium-high heat, sear the chicken skin-side-down in a pan, turn it over, and pop it in a 400 degree oven for about 10 to 15 minutes (or until a meat thermometer reads that the internal temperature has reached 165 degrees).
3. When the chicken is cooked on the bottom and juices are running clear, it means the heat has gone all the way through and it's ready to serve.
---