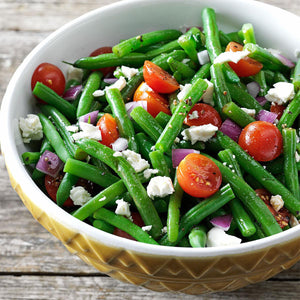 Green Bean Salad
Ingredients
2 pounds fresh green beans, trimmed and cut into 1-1/2-inch pieces
1/4 cup of Olive Destination Hojiblanca Extra Virgin Olive Oil
3 tablespoons lemon juice
3 tablespoons Olive Destination Traditional 18 year Balsamic Vinegar
1/4 teaspoon salt
1/4 teaspoon garlic powder
1/4 teaspoon ground mustard
1/8 teaspoon pepper
1 large red onion, chopped
4 cups cherry tomatoes, halved
1 cup (4 ounces) crumbled feta cheese

Directions

Place beans in a 6-qt. stockpot; add water to cover. Bring to a boil. Cook, covered, 8-10 minutes or until crisp-tender. Drain and immediately place in ice water. Drain and pat dry.
In a small bowl, whisk oil, lemon juice, vinegar, salt, garlic powder, mustard and pepper. Drizzle over beans. Add onion; toss to coat. Refrigerate, covered, at least 1 hour. Just before serving, stir in tomatoes and cheese.

Tip

Instead of snapping off the ends of each green bean like Grandma did, trim a bunch in seconds. Gather beans in a small pile, lining up the tips on one side. Cut off tips with a single slice using a chef's knife. Flip the pile over and do the same on the other side.
---