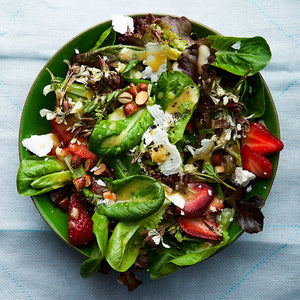 Simple and Delicious Summer Salad
Here's a great summer salad idea for that fresh produce available now at the farmers markets. Combine some baby lettuce or your favorite green with strawberries, feta cheese and and almond pieces. Top with some Olive Destination Sicilian Lemon balsamic and our Eureka Lemon flavored Extra Virgin Olive Oil for a refreshing crisp easy luncheon idea,bon appétit!
Stop in either store for some other great ideas for using the fruit and vegetables becoming with the summer season.
---