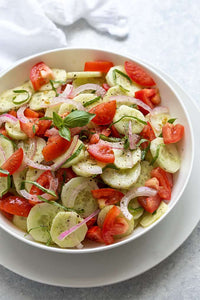 The Simplest Summer Salad
Serviings: 4
Ingredients:
2 cup tomato, diced mixed (any variety)
2 cup cucumber, thinly sliced
1/4 red onion, thinly sliced, of a large
1 handful mixed herbs, such as basil, parsley, dill, chives, mint, roughly chopped
1/4 cup Olive Destination Biancolilla EVOO
3 tablespoons Olive Destination Lambrusco wine vinegar(to taste)
Course sea salt, about 1/2 tsp
Freshly ground pepper (optional)
Directions
Place diced tomatoes, cucumber, red onion, and herbs in a bowl. Drizzle with olive oil and vinegar. Add sea salt and ground pepper (optional). Toss together and serve. Store the leftovers in airtight container in refrigerator for 1 day.
Chef Ellen Doerr
---