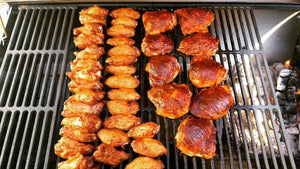 Best Balsamic BBQ Sauce ... EVER!
Best Balsamic BBQ Sauce... EVER!
1/2 cup brown sugar
1 1/2 cups ketchup
1/4 cup molasses
1 cup Balsamic - your choice (Olive Destination 18 year Traditional Balsamic works best here)
2 tablespoon Worcestershire sauce
2 tablespoons dry mustard
2 tablespoons Olive Destination Baklouti Olive Oil, or any fused/infused olive oil of your choice
1 small white or yellow onion, minced
2 teaspoons granulated garlic
2 teaspoons smoked paprika (mild or spicy)
2 teaspoons Olive Destination Cayenne Olive Oil(optional for lovers of heat)
2 teaspoons kosher salt
Fresh ground pepper to taste
Heat the olive oil of your choice in a large saucepan over medium heat. Add the onion and cook until softened, about 5 minutes. Add ketchup, Worcestershire, molasses, brown sugar, balsamic vinegar, mustard, granulated garlic, smoked paprika, black pepper, cayenne pepper and stir to combine. Bring to a boil, and then reduce heat to low and simmer until slightly thickened, about 30 minutes, stirring frequently.
Transfer sauce to the jar of a blender and blend until smooth. Let cool to room temperature, transfer to a jar and store in refrigerator for up to a month. This is great on everything - chicken, ribs, burgers, shoes. You can literally put it on anything, and I encourage you to do so.
Makes approximately 3 cups
---