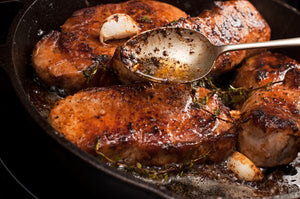 Marinated Pork T-Bones
Ingredients
4 center cut pork T-bone steaks (1-inch thick)
1 lemon (peeled, reserving peels, halved)
6 sprigs oregano (tied with butcher's twine, plus more to garnish)
4 cloves garlic (peeled and smashed)
1 tablespoon Olive Destination Red Wine Vinegar or Fig Balsamic
2 tablespoons Olive Destination Extra Virgin Olive Oil (Picual or Morruda)
4 tablespoons unsalted butter
Kosher salt and freshly ground black pepper (to taste)
Directions
· In a gallon-sized zip top, combine the steaks with the lemon peels, oregano, garlic, vinegar, and olive oil and marinate for 1 hour in the refrigerator. Remove the steaks from the refrigerator 30 minutes prior to cooking.
· Preheat a cast iron skillet over medium-high heat. Remove the steaks from the marinade and season well with salt and pepper. Drizzle with olive oil then place them in the pan, leaving spacing in between. Cook without moving too much until golden brown and crusty, about 6-8 minutes. Flip, add butter and baste the steaks with a spoon. Cook until internal temperature has reached 145ºF. Remove the steaks from the pan, and allow rest for 5 minutes before slicing and serving. Garnish with some chopped oregano and a squeeze of lemon.
· Tip: Season the cutting board with olive oil, salt and oregano before removing the steaks to rest for more flavor!
---