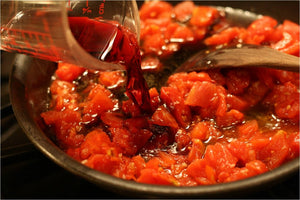 Red Wine Pasta Sauce
Ingredients:
1 Can (28oz) crushed tomatoes
1 can tomato paste
2 tbsp Olive Destination EVOO
2 cloves garlic, minced
1 tsp Olive Destination Real Salt sea salt
1tsp black pepper
1 tsp red pepper flakes, or to taste
1 tbsp dried oregano, or to taste
4 cups Spanish wine (Don Rommano)
Procedure:
Preheat a deep, nonstick saucepan over medium heat. Add olive oil and let the oil heat for a few minutes.
Add minced garlic to the heated olive oil. Sauté for 1 min, stirring continuously, until the garlic has softened and starts to become translucent.
Reduce the heat if the garlic starts to turn brown or smell bitter. This means the garlic is cooking too fast and is starting to burn, which could make your sauce bitter tasting.
Pour paste and tomatoes into the pan with the garlic.
Add salt, pepper, any herbs and red pepper flakes to the tomatoes.
Taste the sauce and adjust the seasonings.
Gently pour the wine into the tomato sauce.
Stir the mixture thoroughly to work the wine into the sauce.
Simmer the red wine pasta sauce.
Recipe by Chef John Noel Gilbertson, CEC, True Harvest Culinary
---