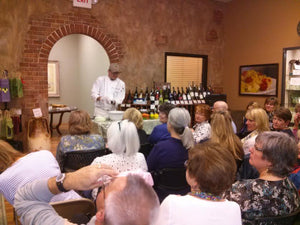 2015 Class Schedule (Changed 3/21/2015)
Our class schedule is now set for the first half of 2015. So, grab a neighbor, friend or possibly even a spouse and sign up for one of our upcoming classes for some good fun, great food and some wonderful ideas for creating easy, healthy meals in your own kitchen. One of our chefs will prepare and sample some wonderful dishes and each will be accompanied by one of our special wines.

The class schedule includes Tuesday, Wednesday and Thursday classes and is now available here and on our website. They will be Thursday Jan 29th,changed to Wednesday, Jan 28th, Tuesday, Feb 10th, Thursday Feb 26th, Thursday, Mar 19th, Wed, Apr 22nd And Tuesday, May 12th.

All classes start promptly at 6:30PM and cost $15 per person.

We need to know of any food allergies you or your co registrants have at time of registration and at least 48 hours prior to class time in order to accommodate.
---