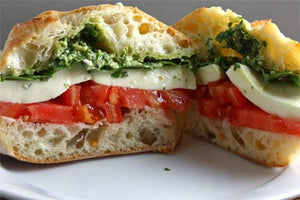 Caprese Grilled Cheese
Ingredients:
2 oz Pesto
1 oz Olive Destination Traditional Balsamic Vinegar
4 Basil leaves
4 oz fresh Mozzarella
1 medium or Roma Tomato
2 slices hearty Bread
Procedure:
Toast Bread and then apply layer of Pesto on Bread.
Place slices of Tomato on Bread.
Place Basil and Mozzarella on Tomato.
Drizzle Traditional Balsamic Vinegar on Basil and Tomato.
Top with other slice of Bread and enjoy!
Recipe provided by Executive Chef John Gilbertson.
---