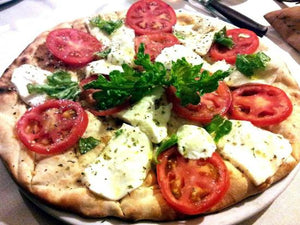 Caprese Pizza
Ingredients:
4 medium or Roma Tomatoes
2 oz Pesto
2 oz Olive Destination Basil or Rosemary EVOO
8 Basil leaves
4 oz fresh Mozzarella
Pizza Crust (here's a great Pizza Dough recipe!)
Procedure:
Bake a pizza crust.
Layer on Pesto, slices of Tomatoes, fresh Mozarella.
Top with Basil leaves (tear them apart to spread across pizza) and Olive Destination EVOO.
---