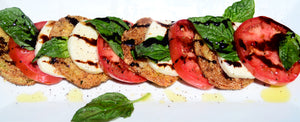 Caprese Salad with fried mozzarella fritters.
Ingredients:
4 oz. Asiago Parmesan Cheese
4 oz. Fresh Mozzarella
1 cup Panko Bread Crumbs
1-2 Eggs
1/2 cup Flour
4 each Roma or Medium Tomatoes
4 leaves fresh Basil
2 oz. Olive Destination Garlic Flavored EVOO
1 oz. Olive Destination Walnut Oil
1 oz. Olive Destination Traditional Balsamic
Procedure:
Mix Parmesan Cheese with Panko Bread Crumbs in container.
Mix milk and eggs in another container.
Bread the Fresh Mozzarella by wetting in milk/egg bath. Then place Mozzarella in Crumb/Cheese container so that crumbs stick to wet Mozzarella.
After being breaded, pan fry Mozzarella in Walnut Oil.
Layer the Mozzarella fritters with Tomato and Basil. Drizzle Garlic EVOO and Traditional Balsamic and enjoy!
Recipe provided by Executive Chef John Gilbertson.
---