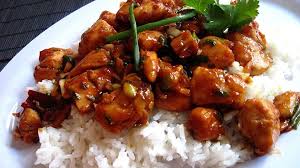 Chicken A l'Orange
Chicken A l'Orange
4 each 4 oz Chicken Breast
2 Tbl Raspberry Key Lime Honey
2 Tbl Olive Destination Tuscan Herb Olive Oil
2 each oranges
2 Tbl Olive Destination Traditional Balsamic Vinegar
2 cups chicken broth
½ tsp salt
1 dash black pepper
Zest approximately ½ of 1 orange, thin slice this and set aside.
Sautee chicken in oil over medium heat for 4 minutes.
Turnover and cook until an internal temperature of 165 degrees is reached.
Remove chicken from pan, add honey and cook for 2-3 minutes until it reaches a light caramel color.
Add Balsamic Vinegar and then juice of oranges followed by chicken broth, orange zest and seasonings.
Reduce sauce by 2/3 volume and then thicken with corn starch as needed.
Strain sauce and then return breasts to pan with sauce to simmer for 2 more minutes, garnish with orange slices, and then add sauce and strain.
Can be served alone or over rice or Olive Destination Pasta or Orzo
Submitted by Executive Chef John Gilbertson
---