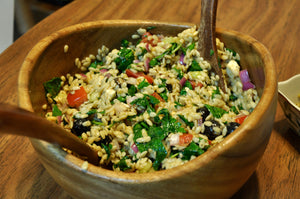 Citrus and Kale Pasta Toss
Citrus and Kale Pasta Toss
1 bunch Kale
2 fl oz Olive Destination Blood Orange flavored EVOO
1 fl oz Olive Destination Honey Ginger or Olive Destination Cranberry Pear White Balsamic Vinegar
Salt and Pepper
2 cups Viviana Lemon Orzo Pasta (Available here at Olive Destination), blanched
Wash, mince (thin slice) and blanch (par-boil) Kale for 30 -45 seconds. Remove Kale and rinse in cold water to stop the cooking process. The blanching step is done to soften the firmness and the bitter taste of raw kale. It becomes very pleasant when blanched and treated with some flavorful oils and balsamics.
Chop Kale into 1/4" pieces.
Blanched and rinsed Kale can be used as a salad ingredient, stir-fry ingredient, blended with Grains or Pasta.
Submitted by Executive Chef John Gilbertson
---