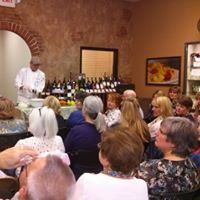 Class Schedule 2017 Winter/Spring
We are excited to announce our class schedule for the Winter/Spring season. The dates are: Tuesday February 9th, Thursday March 23rd, Tuesday April 11th and Thursday May 25th and are held at the Louise Avenue store. All classes start promptly at 6:30 PM and cost is $20 per person. A minimum of 12 people will be required to hold each class.
Classes fill up fast so register early by stopping in either store or calling (605) 271-2220 with a credit card to secure your seat.
One of our affiliated Chefs will be demonstrating how you can prepare elegant, delicious and healthy meals in your own kitchen using our Extra Virgin Olive Oil, Balsamic Vinegars, Pastas, Seasonings, Chocolates and Wine. In fact, a wine tasting is included with each class.
We need to know of any food allergies you or your associates have at the time of registration and at least 48 hours in advance to accommodate.
The schedule will also be posted on our website at www.olivedestination.com.
---