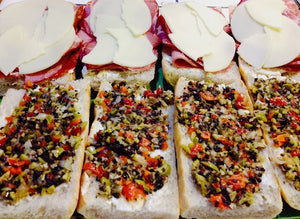 Classic Muffuletta
Classic Muffuletta
Ingredients:
1 cup OD* Garlic Stuffed Olives, coarsely chopped
1/2 cup OD Kalamata olives, coarsely chopped
1/3 cup OD* Fire Roasted Red Peppers, drained and coarsely chopped
1/4 cup roughly chopped pickled cauliflower florets
2 tablespoons OD* drained capers
1 tablespoon chopped celery
1 tablespoon chopped carrot
1/2 cup Green Chili stuffed OD* U Stuff It olives, coarsely chopped
1/4 cup marinated cocktail onions
1/2 teaspoon celery seed
1 teaspoon dried oregano
1 teaspoon dried basil
3/4 teaspoon ground black pepper
1/4 cup OD* Oregano or white balsamic vinegar of your choice
1/2 cup OD* Basil fused olive oil
2 (1 pound) loaves crusty Italian bread
8 ounces thinly sliced Genoa salami
8 ounces thinly sliced cooked ham
8 ounces sliced Mortadella
8 ounces sliced mozzarella cheese
8 ounces sliced provolone cheese
Directions
To make the olive condiment: In a medium bowl, combine the Garlic and Kalamata olives, cauliflower, capers, celery, carrot, cocktail onions, celery seed, oregano, basil, black pepper, Oregano balsamic vinegar, and Basil olive oil. Mix together and transfer mixture into a glass jar (or other nonreactive container). If needed, pour in more oil to cover. Cover jar or container and refrigerate at least overnight.
To Make Sandwiches: Cut loaves of bread in half horizontally; hollow out some of the excess bread to make room for filling. Spread each piece of bread with equal amounts olive salad, including oil. Layer 'bottom half' of each loaf with 1/2 of the salami, ham, mortadella, mozzarella and Provolone. Replace 'top half' on each loaf and cut sandwich into quarters.
Serve immediately, or wrap tightly and refrigerate for a few hours; this will allow for the flavors to mingle and the olive salad to soak into the bread.
*OD = Olive Destination
Serves 8-10
---