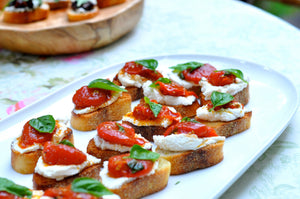 Crostini Tapenade en Croute
Ingredients:
1 each Baguette Bread
6 each Roma Tomato sliced
1 cup Cheese (your choice)
1 Tbsp Romano Cheese Blend Seasoning
To Taste Olive Destination Tuscan Herb Olive Oil
Procedure:
1. Slice the bread in half the long way.
2. Spread the Tapenade evenly over the top.
3. Next put on a layer of the sliced tomatoes and top with cheese.
4. Toast in a oven until the top starts to turn brown.
5. Drizzle Olive Oil to taste
6. Serve and enjoy!!!
---