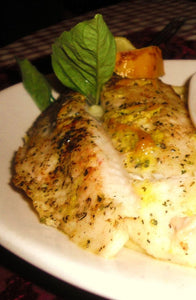 Tilapia for People who don't like Fish
This is an easy recipe that will seduce even the most fish averse members of your family. Using some thawed Tilapia fillets simply coat with Olive Destination Coconut White Balsamic, Olive Destination Persian Lime olive oil and some of our Back to Basiks Key West Citrus Lime Seasoning. When cooking is complete put a little more balsamic in the hot pan to deglaze and drizzle reduced vinegar mixed with pan drippings over plated fish. Can also be used with chicken, shrimp or salmon.

Place in a 420 Degree oven for 20 minutes and enjoy. Place on the top rack for a crustier surface.

Can also be done in a pan on the stove or on the grill.
---