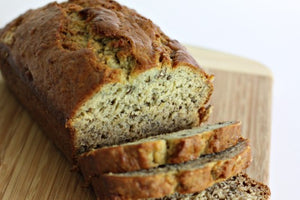 Gluten-Free Banana Bread
Ingredients:
2 cups Sugar
1 cup Olive Destination Extra Virgin Olive Oil*
*(portion of cup, about 1/4 or 1/3, should be Olive Destination Blood Orange EVOO or Eureka Lemon EVOO but too much flavored oil will overpower the flavor)
4 Eggs
5 very ripe Bananas
2.5 cups Gluten-Free Flour Mixture
2 teaspoons Baking Soda
1 teaspoon Baking Powder
1 teaspoon Real Salt Sea Salt
Process:
Cream Sugar, Oil, eggs
Mix well adding 1 Banana at a time
Squeeze all juice out of peelings.
Add dry ingredients mixing everything well.
Mary uses 3 small tins to bake at 350 degrees.
Check center with toothpick at 40 minutes.
Thank you, Mary Ihli, for sharing this recipe!
---