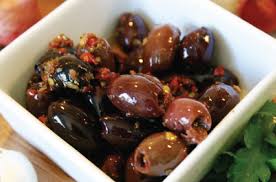 Marinated Olives
Marinated Olives
(Leo's new favorite!)
1 jar Olive Destination Kalamata Olives (Or sub with your favorite Olive Destination Olives)
¾ C Olive Destination Organic Tuscan Herb Extra Virgin Olive Oil
1-2T OD spice blend of your choice (Our Basik's brand "Original Blend" recommended)
1.

Heat Organic Tuscan Herb EVOO in large sauté pan over low heat. When oil is warm, add olives and spices to the pan.
2. Cook for 3-4 minutes, until olives are heated through and the spices begin to give off aroma.
Serve immediately, or for better flavor, let them sit overnight in the fridge. Reheat before serving.
Drain Olives
---