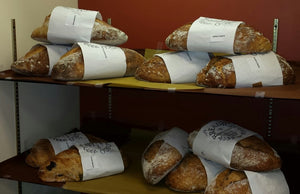 New Item: Baked Fresh Breadico Bread Daily
We have an exciting new addition at Olive Destination to tell you about. As of today we'll be featuring Napolitano's Breadico bread, baked and delivered fresh daily. Of course no where else in this area can you also purchase the wonderful extra virgin olive oils, balsamics and extensive array of seasonings to enhance these outstanding breads.
Today we have Olive Bread, Sourdough, Country Loaf and Sunflower.
We'll be sampling these wonderful breads each day, so stop in and enjoy. bon appetite!
---