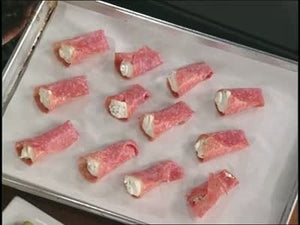 Olive Salami Cornets
Ingredients:
1 Dozen Olive Destination Spanish Chardonnay Feta Cheese Stuffed Olives
12 slices Salami
4 oz Cream Cheese
1 tbsp Olive Destination Italian Seasoning
Procedure:
1. Lay out the salami on a cutting board.
2. Place a dollop of the seasoned cream cheese in the middle.
3. Roll into a cone shape and stuff into the olive.
4. Serve and enjoy.
---