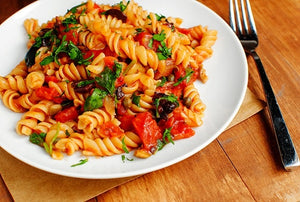 Pasta "Puttanesca"
Originating in Naples, this culinary classic is reputed to have been used by Napolese Harlots to entice their customers to stop in. The ingredients are as follows but substitutions can be made.
Pckg Olive Destination Trene pasta
Skinless, Boneless Chicken cut into 1/2 inch pieces
1/4 Cup Olive Destination Extra Virgin Olive Oil (eg Tuscan Herb)
6 Garlic cloves chopped
1 Cup drier white wine or Riesling
1 Jar Olive Destination Sundried Tomato Tapenade
1 Cup pitted Olive Destination Kalamata Olives
1/2 teaspoon black pepper
1/4 Cup hand shredded parmesean
Optional (but traditional) ingredient: 1 small can of Anchovies
Sautee chicken very lightly in about 1 teaspoon of the olive oil, add in garlic and sun dried tomatoes. If anchovies are desired now is the time to add them as well. Add remaining ingredients with the exception of the parmesan and pasta, cover over low heat for about 3 minutes. Blend in cooked pasta and now "toss" the ingredients together in order to heat the pasta throughout, cover again to let heat set in evenly, then serve immediately finishing with parmesan.
Recipe provided and prepared by Executive Chef John Gilbertson
---