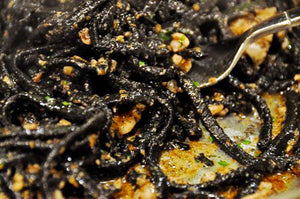 Pasta Puttenesca
Ingredients:
2 lb Olive Destination Black Calamari Pasta
6 fl oz Olive Destination Barnea (any robust varietal would work) Extra Virgin Olive Oil
4 cup Cherry Tomatoes
3 cup Kalamata Olives
10 oz Olive Destination Pesto
.5 liter Latue Blanco Wine
1 tsp Olive Destination Real Salt kosher sea salt
Procedure:
Cook Pasta for 11 minutes, then drain and rinse.
Moisten with oil and mix well.
Saute garlic, tomatoes, olives and pesto in a saute pan.
Deglaze with white wine, simmer for 2 minutes.
Recipe by Chef John Noel Gilbertson, CEC, True Harvest Culinary
---