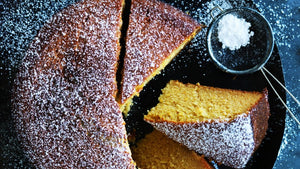 Portuguese Orange, Olive Oil and Honey Cake
Ingredients
3 cups plain flour
2 tsp baking powder
½ tsp salt
4 eggs
1¼ cup honey
1 cup Olive Destination Arbequina Extra Virgin Olive Oil
Use the rind and juice of 2-3 oranges (1 cup juice)
Icing sugar, to dust
Process
Heat your oven to 330 Degrees. Whisk the flour, almond meal, baking powder and salt together in a large bowl.
In a separate bowl, whisk the eggs and honey together until well combined and lightly aerated, then whisk in the olive oil, orange juice and rind.
Fold the dry mixture into the wet mixture until just combined, then transfer this to a greased and lined 9 inch round cake tin.
Bake for 1 hour or until cooked through (a skewer inserted into the cake should come out dry). Remove from the oven and allow to completely cool. Dust with icing sugar to serve.
---