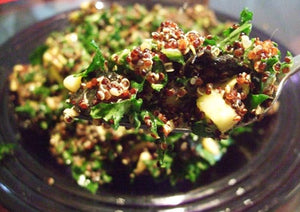 Quinoa and Kale Salad
Ingredients:
1 lb TRI COLOR quinoa
2 fl oz Olive Destination Cara Cara Vanilla White Balsamic Vinegar
2 fl oz Olive Destination Blood Orange Olive Oil
2 fl oz Honey
8 oz diced 1/2" julienne carrots
1 lb finely chopped (1/4") kale
1 tsp Olive Destination Real Salt kosher sea salt
1 dash crushed red pepper
Procedure:
Blanch Quinoa in boiling water, rinse lightly.
Blend in oil to quinoa; this will keep the grains from sticking, next blend in the honey and vinegar.
Blanch Kale for 1-2 minutes.
Mix very well all remaining ingredients, chill and reserve for service.
Additional vegetables are virtually unlimited - think broccoli, diced summer squash, tomatoes, onions, etc.
Recipe by Chef John Noel Gilbertson, CEC, True Harvest Culinary
---