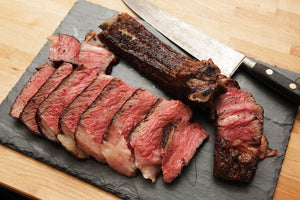 Seared Steak with Chipotle Maple Glaze
Seared Steak with Chipotle Maple glaze
16 oz petite tenderloin steaks
2 fl oz Olive Destination Maple Balsamic Vinegar
2 fl oz Olive Destination Chipotle flavored EVOO
Salt and pepper or signature seasoning
Marinate thin petite tenderloin steak for 1 hour in ½ of the Maple Balsamic Vinegar under refrigeration.
Sauté steak on medium high heat for 60 seconds then turn cooking a remaining time period according to internal temperature of the meat
Use a meat thermometer to determine doneness - 130 medium rare, etc. allow steaks to rest. Deglaze pan with Maple Vinegar, then add Chipotle oil and reduce by half.
Return steaks to pan, allowing steaks to absorb the oil and vinegar as a glaze Thin slice and serve Steaks as appetizers, Entrée (plated) or on Crusty Bread as a Sandwich.
Submitted by Executive Chef John Gilbertson
---