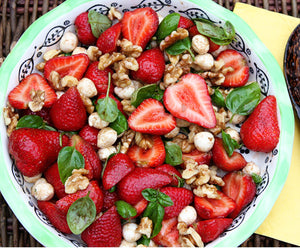 Strawberry Caprese Salad
Ingredients:
2 pints Strawberries
4 oz. Chopped Walnuts
2 oz. Olive Destination Tuscan Herb EVOO
1 oz. Olive Destination Pomegranate Balsamic Vinegar
Olive Destination Real Salt Sea Salt
Pepper
Fresh Basil
Procedure:
For a sweeter variation, swap out tomatoes in favor of sweet summer strawberries.
Layer Strawberries with fresh Mozzarella and Basil.
Top with Walnuts for crunch and to compliment the Strawberries.
Recipe provided by Executive Chef John Gilbertson.
---