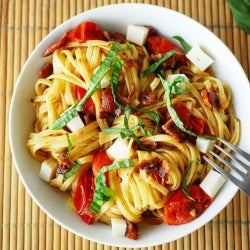 Summer Pasta and Caprese Salad
Ingredients:
1 lb Pasta Mama Tomato Fettuccini
24 Grape or Cherry Tomatoes
4 oz fresh Mozzarella
2 oz Olive Destination Basil EVOO
1/2 oz Olive Destination Traditional Balsamic Vinegar
Procedure:
Cook pasta to al dente (firm to the bite). Drain pasta and rinse with cool water to cease cooking process.
Lightly saute Cherry Tomatoes until they burst, creating a natural sauce for the pasta.
Toss Tomatoes with Basil EVOO, pasta, mozzarella, Balsamic Vinegar, and any other desired seasonings.
Enjoy for dinner tonight, at room temperature for a picnic or potluck, and even cold for lunch the next day.
Recipe provided by Executive Chef John Gilbertson.
---