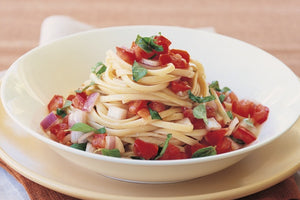 Bruschetta Pasta
Ingredients:
One recipe for Bruschetta Basil EVOO & Sherry Vinegar or Tuscan Herb EVOO & Grapefruit Balsamic Vinegar
1 pkg. Olive Destination pasta
1-2 cloves of garlic, minced
Garlic or Olive Destination Milanese Gremolata EVOO
Basil, to garnish
Salt and pepper, to taste
Method:
Cook pasta to al dente; drain and set aside. Heat oil in skillet; once heated, add minced garlic. Let garlic cook for a minute to release flavor, then add Bruschetta. Heat to warm, then toss together with pasta. Season to taste. Finish with basil.
By Executive Chef Drew Laberis
---